TikTok Strategy – New Market Reach – Influencer Campaigns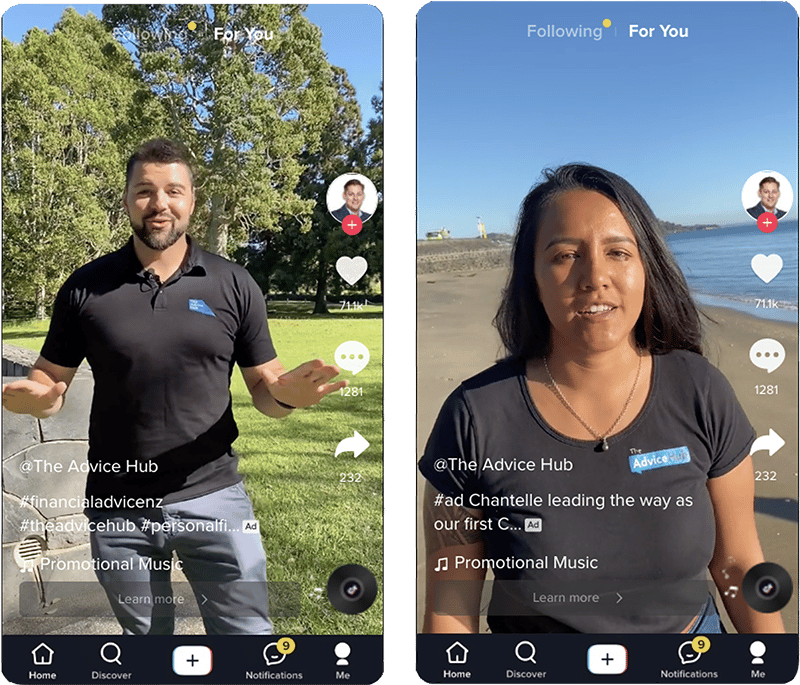 TikTok bridges the gap between entertainment and culture and is fast becoming a key social media platform in the New Zealand market. At Local Market, we understand this new wave of social media and how to get the most out of your paid campaigns. From understanding TikTok and video-specific strategy, implementing effective paid campaigns, creating strong video content and build meaningful communities to ensure your marketing reaches the right audience every time.
Discover the First Mover Advantage
With a diverse and heavily engaged user base, TikTok is the rising star of social media platforms, and The Advice Hub are enjoying being one of the few Kiwi businesses to take advantage and use the platform for advertising.
Through creating TikTok specific content that gets the message across, The Advice Hub has ensured its financial advisors are in front of their key demographics in an easily digestible way that makes sense. They now have a constant stream of leads coming in from across New Zealand.
Now is the time to advertise on TikTok! Local Market can help create a strategy and content that turns views into high-quality leads. Get in touch for a free TikTok discussion today.
We've Got You Covered
Whether your goal is to reach a diverse audience or drive visitors to your website, building a strong TikTok marketing strategy should become a priority for strategic growth. We understand that TikTok can feel scary if you've never used it before, which is why working with our experts can help take the stress off you and allow you to enjoy the growth while focusing on your own business.
Paid Advertising
In a world where audience means everything in advertising, TikTok guarantees you a diverse and engaged audience for your service or product marketing. With the platform offering high engagement, we can manage an effective paid TikTok strategy that will connect you to new audiences –  turning views into customers.
Engaging Content Creation
TikTok videos are traditionally 15 seconds long, with users' attention needing to be grabbed in the first 0.3 seconds. By specialising in making engaging creative content that grabs your audience's attention turning views into leads and sales, we can help you scale your business through creative content designed for TikTok. 
Influencer Marketing
From working with some of the biggest names in New Zealand, to finding micro-influencers who specialise in your niche market, influencers can be a powerful endorsement when building your brand online. By investing in an influencer campaign with us, we will reach out to influencers on your behalf, create a mutually beneficial relationship and help build trust in your brand.
Cross-Platform Posting
With the rise in popularity of video content, you can reuse successful TikTok content as reels, stories and shorts on other social media platforms, like Facebook, Instagram and YouTube. Effective TikTok videos can be a powerful way to increase daily engagement and reach your audience on other platforms.
I'd love to help you accelerate your TikTok Marketing.
Request Free Advertising Audit